Based on a report by the National Highway Traffic Safety Administration (NHTSA), about 100,000 accidents on American roads every year are as a result of driver fatigue.
You can imagine the loss of lives and damage to property that such accidents cause. The question is, are the 18-wheeler truck drivers the ones to blame for those accidents? Unfortunately, only a few of such accidents involve the 18-wheeler trucks.
However, a good number of truck drivers in the country are paid based on the number of miles they drive. There is also pressure from the employers for the drivers to deliver their loads in time.
As such, truck drivers will eventually be tempted to drive past their point of exhaustion. Suppose such an exhausted driver falls asleep while driving.
To avoid such a scenario on American roads, the Federal Motor Carrier Safety Administration (FMCSA) is trying to limit the number of hours a truck driver can drive in a day. Now this is where the current hours of service rules come in.
So, what are those service hour rules are there any exceptions to those rules and what will happen if you fail to comply with them?
The Current Hours of Service Rules & Regulations Governing Truck Drivers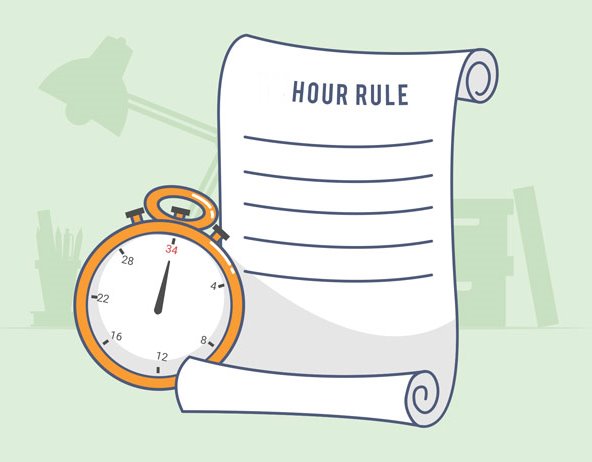 When the FMCSA started limiting driving hours for truck drivers, drivers were allowed to drive for up to 16 hours.
Due to increasing concerns for safety on the roads, this number was reduced to 14 and later on to 11 hours a day (13 active duty and 3 off-duty hours), with stipulations.
As time goes by, the FMCSA continues to evaluate and improve hours of service rules to ensure that the roads are safer for all users.
If the current FMCSA regulations on hours of service were complied with and drivers took time to rest, fatigue-related accidents would definitely drop.
Discussed below are the current rules by the FMCSA on truck drivers' hours of service:
8 hours, 30 minute break. Commercial truck drivers are required to take a break of at least 30 minutes after driving continuously for 8 hours.
8/2 split break. Property carrying drivers can only drive a maximum of 11 hours in a day and only after being off duty for 10 hours consecutively. With the 8/2 split, a truck driver may drive for 6 hours and then take a 2-hour off-duty break. After that, he can drive for another 5 hours. At that stage, an 8-hour off-duty period would start. When joined with the 2-hour off-duty break, it would satisfy the 10-hour off-duty requirement by the FMCSA.
14 hour on duty shift. A commercial truck driver should not be on duty for more than 14 hours in a 24-hour timeframe. Well, this is possible because you may not be driving the entire time; part of the time will be consumed by loading and offloading.
70/8 rule. Commercial truck drivers cannot drive for more than 70 hours within an 8-day period (70 hour rule). Therefore, you can restart your 70-hour work period after every 8 days and only after spending at least 34 consecutive hours off-duty. This is also known as the 34 hour reset.
60 in 7 rule. Truck drivers are not allowed to drive for more than 60 hours in a 7 day period. This rule requires a driver to restart his or her 60-hour period once in a week and after spending 34 consecutive hours off-duty. Fleets can decide if they want to use the 70/8 rule or the 60 in 7 rule.
Keeping Track of Hours
Drivers are required to keep track of their driving and resting time on a daily basis. Initially, this was done using either a daily logbook or an electronic on-board recorder (EOCR).
However, the ELD mandate now requires drivers to use electronic logging devices to keep track of their hours of service every day.
Commercial drivers using a sleeper berth provision are required to spend at least 8 consecutive hours in the sleeper berth provision.
Additionally, such drivers are also required to spend an additional 2 hours either off-duty, in the sleeper berth or a combination of the two.
FMCSA Split Sleeper Berth Example
A driver begins his day at about 8 a.m. with 1 hour of being on-duty without driving. This commences the 14-hour clock and takes up just one hour of the time. At 9 a.m., the driver can begin driving until 2 p.m. The driver now used a total of 5 hours of the allowed 11-hour drive time. Also, he has used 6 hours of his overall 14-hour clock.
At this point, such driver must take an 8-hour rest or break in the sleeper berth. While the driver is in the sleeper, he's stopping the 14-hour clock. At 10 p.m., the driver start driving again and has 6 hours alotted to drive time and 8 hours left of the 14-hour clock. The driver then continues his trip for another 6 hours, bringing him to 4 a.m. and goes on to off-duty status for 2 hours. As explained earlier, the combo of both rest periods is considered a 10-hour break.
We hope this clearly explains the sleeper berth vs off duty dilemma.
Exceptions to These Regulations
Some commercial truck drivers may not know this, but there are several exceptions to the hours of service regulations.
Mentioned below are the exceptions to these rules that you need to know:
Commercial truck drivers may exceed the 11-hour driving time limit during inclement weather. In such a case, the driver is only allowed to exceed the 11-hour maximum by up to 2 hours.
Drivers for retail stores who normally travel less than a 100-mile radius will be allowed to exceed the 11 hours maximum between December 10 and December 25. This is to allow such drivers to make delivery demands for the festive season.
Truck drivers who only travel within a 100-mile radius from their place of work are not required to keep a log of their working hours.
Drivers within Hawaii may not keep hours of service log books. This is because their employers are required to provide the total number of hours per day for each driver along with start and end times for the employees.
Commercial truck drivers in Alaska are allowed to drive for up to 15 hours and spend 10 hours consecutively off-duty. This is because of the size of this state.
Personal Conveyance
This is when the driver is using the vehicle during his off time, maybe for personal transportation. This period should not be logged as driving hours; it is considered to be off time.
However, the ELD mandate regulations require the driver to be visible on the logging device during personal conveyance.
Driver should not be carrying out work-related chores, such as taking the vehicle for maintenance of fueling; during personal conveyance.
Personal conveyance exception may only be used in certain circumstances, including:
Driving the vehicle from en route lodgings to restaurants
Driving to the nearest parking space when you unexpectedly run out of time after a delay at a receiver or shipper
Commuting between your home and your work reporting station
Driving to a safe parking spot after a police officer asked you to move the vehicle.
Yard Moves
This is another special exception status that was recently introduced by the ELD mandate. The main idea behind this status is that driving on a limited access yard or lot can be carried out on Duty Status instead of Driving status.
However, the rules on when and how to use the Yard Moves status are not yet clear.
Summing It Up
The main objective of the ELD mandate is to reduce fatigue-related accidents on American roads. Since these are now laws in the country, failing to comply with them will attract penalties.
If a trucking company is found to be in egregious violation of these regulations, it may face maximum penalty for each of the violations.
A violation of any of the hours of service rules mentioned above can attract a fine of $11,000 per offence for the trucking company.
As for the driver, you may be fined about $2,750 for each violation to the above regulations. Therefore, it will be safer for you and your employer to comply with the ELD mandate requirements right away.