Although the ELD mandate has already taken effect, and a considerable number of trucks still do not have these devices installed. Electronic logging devices are meant to replace paper logs and meet the various ELD compliance requirements.
While it is important for you to have an ELD installed in each one of your commercial vehicles, do not make a rush decision. Just like many other drivers and fleet managers, you may be having problems choosing the best ELD solution.
As you will learn later in this guide, this choice requires you to consider such aspects as the compatibility, affordability, ease of installation, and use, compliance and event-based ELD solutions.
Even with such considerations in place, you will realize that you have many products to choose from. To make your choice a little easier, here are reviews of 10 of the best electronic logging devices available today.
ELD Reviews 2019 – The Top 10 Devices
| ELD Name | FMCSA Compliant | Upfront Cost | On-Going Fees |
| --- | --- | --- | --- |
| KeepTruckin ELD | Yes | $150 | $20 or $30 plans |
| Transflo ELD T7 | Yes | $99 | $25 |
| Omnitracs (IVG) Intelligent Vehicle Gateway Master Pack | Yes | 799 or more | $23 or more |
| Rand McNally – Electronic Logging Device ELD 50 | Yes | $149 | $15 or more |
| BigRoad DashLink ELD | Yes | $0 with Lease | $15.6 per user/truck |
| J.J. KELLER Encompass ELog Electronic Logging Device | Yes | $0 with BYOP option | $11 or less |
| Linxup ELD | Yes | $250 or $100 with contract | $30 to $50 |
| Gorilla Safety ELD | Yes | $0 | $10 |
| PeopleNet Display.4 | Yes | $0 with lease option | $30 to $60 |
| Blue Ink Technology | Yes | $295 | $0 |
Get FREE ELD Device Quotes
1. KeepTruckin ELD – Best Overall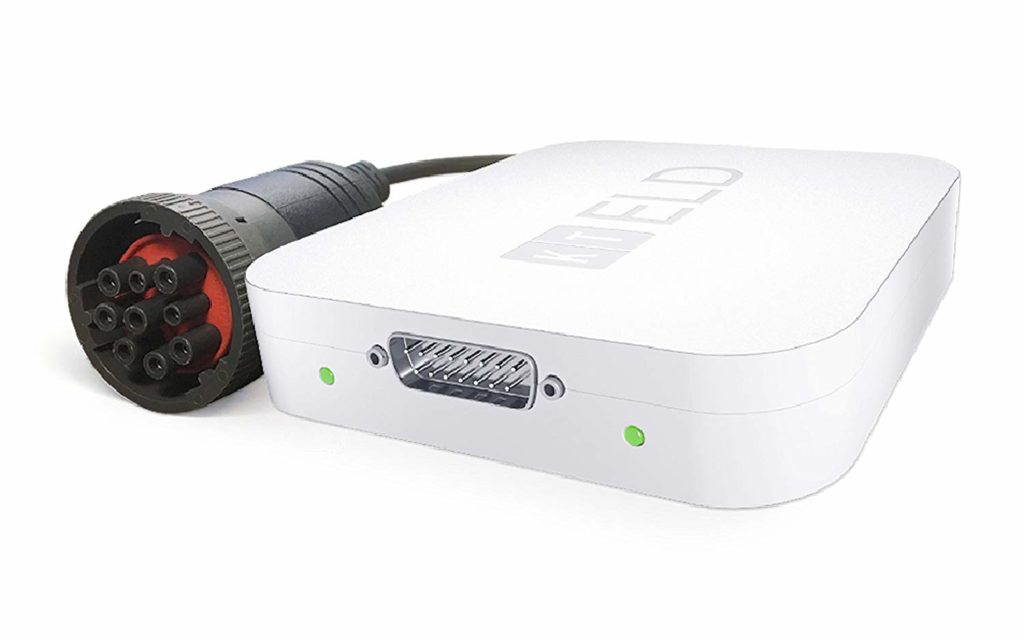 As of now, the KeepTruckin ELD is being used by more than 400,000 drivers across the country. This growing popularity of the device may be attributed to its affordability, ease of use and a range of powerful features and back office tools.
In addition to being one of the best FMCSA certified electronic logging devices in the market, the KeepTruckin ELD is a rather versatile bring your own device (BYOD) ELD solution.
In this regard, the provider offers a user-friendly App that is free to download and install for both iOS and Android devices. With regards to connectivity, you can pair your KeepTruckin hardware to your phone or tablet via Bluetooth or USB.
With this ELD solution, compatibility will not be a problem. In order to make the hardware universal to all vehicle classes, the ELD provider offers both a 9-pin and a 6-pin installation cables.
Additionally, you will also get an instructional manual with your KeepTruckin equipment. This manual features detailed instructions on the installation and appropriate use of the device. Some of the intriguing and easy to access features you will get with this product include massaging, view logs, create vehicle inspection reports, among other capabilities.
In order to get a range of back office compliance and fleet management tools by this provider, you will need to subscribe to a monthly software plan. However, you will also find this to be quite affordable.
Pros
Affordable maintenance
Offers 24/7 customer support
Features an intuitive interface
Easy to install and use
Robust construction
Reliable data and features
Powerful BYOD features
Cons
Requires smaller fleets to pay the subscription fee for the first year upfront
2. Transflo ELD T7 – A Robust GPS Electronic Logging Device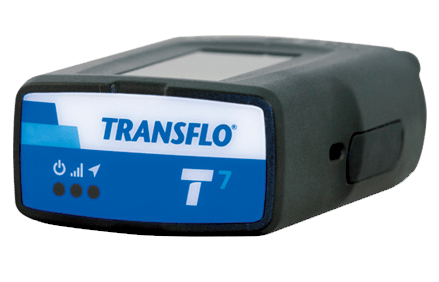 The Transflo ELD T7 is one of the innovative ELD solutions that will offer you the best mobile telematics and fleet management strategies.
To begin with, the product complies with ELD mandate requirements. As a matter of fact, the ELD T7 has been certified by FMCSA. The device itself is robust, portable and packed with a wide range of useful fleet management and compliance features.
The ELD provider also offers one of the best fleet management software in use today. By coupling the two superior solutions, the provider allows you to track vital information from each of your vehicles that have the ELD T7 installed. For instance, the fleet manager will be to get real-time information on truck loads and location of the various vehicles in his or her fleet.
As you can see, this ELD solution offers you a powerful fleet management software, ELD mandate compliance and reliable GPS fleet tracking in a single package.
As such, the solution has been proven to streamline operations for both the drivers and fleet managers in the country. As one of the leading BYOD solutions in the market, Transflo ELD T7 requires your drivers to install the Transflo Mobile App in their phones or tablets.
Through this App, the drivers will be able to access electronic logs; vehicle inspection reports (DVIRs) as well as commodity lists. Whilst doing this, the solution allows the fleet managers complete control over the entire system. As the fleet manager, this software allows you to view the performance and safety data of each vehicle in the fleet.
Pros
The Transflo Telematics Portal offers you complete control
FMCSA certified
Incorporates a cellular chip
Simple to install and use
Offers prolonged battery life
Comes with 9 pin and 16 pin installation harnesses
Offers GPS fleet tracking
The Transflo Mobile App is easy to use
Compatible with different vehicle classes
3. Omnitracs (IVG) Intelligent Vehicle Gateway Master Pack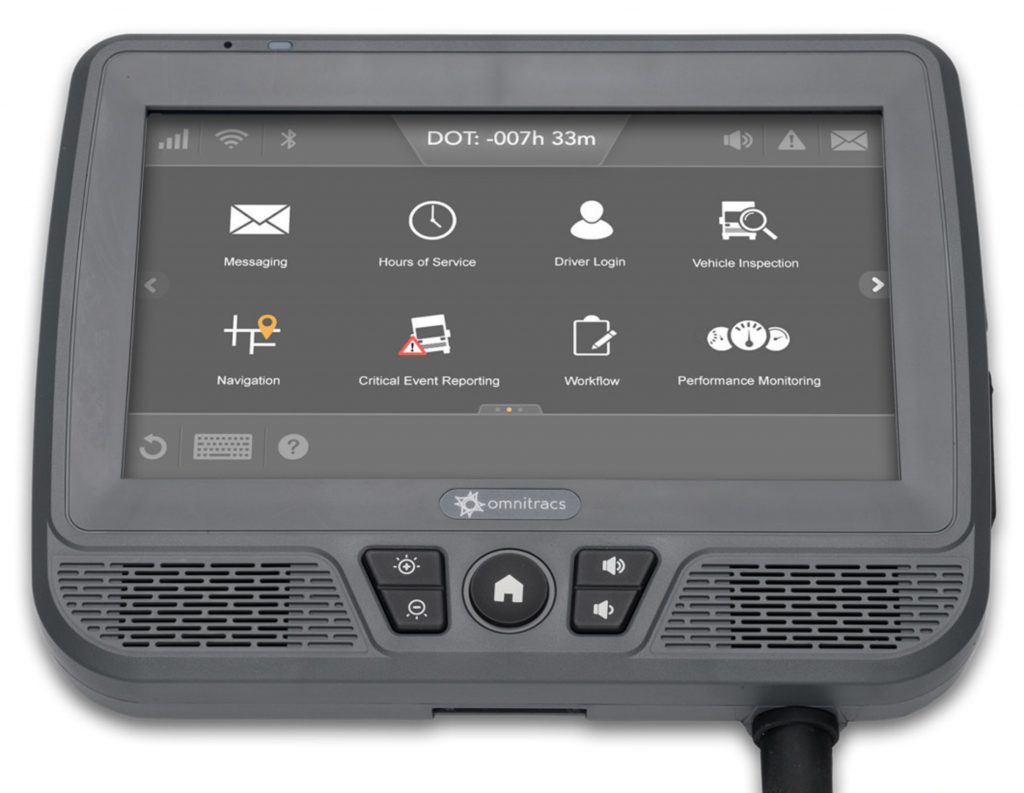 As you may be aware, Omnitracs is one of the pioneering companies in fleet tracking and management solutions in the country. Recently, the provider unveiled an electronic logging device that turned out to be a trend setter in the industry.
The Omnitracs Intelligent Vehicle Gateway (IVG) device is more than just a compliance device.  The IVG features an appealing compact, sleek and modern construction.
Additionally, the unit has a horde of unique features to offer its users.  Basically, the IVG is the next-generation ELD solution that offers a single application-enabling platform. This design is meant to simplify day-to-day operations for both the drivers and fleet managers.
In addition to several other innovative features, you will particularly love the Intelligent Voice Interface feature of this device.  This feature allows drivers to operate their ELD hands free.
Pros
Fitted with a 1024 x 600 Touch display
Features Intelligent Voice Interface
Offers Wi-Fi and terrestrial web browsing
Improves your CSA score
Supports Bluetooth connectivity
Features an industry-grade processor
Offers Intuitive Message Notification
Easy to install and operate
Cons
May appear too expensive for some users
4. Rand McNally - Electronic Logging Device ELD 50 – The Best Intuitive Electronic Logging Device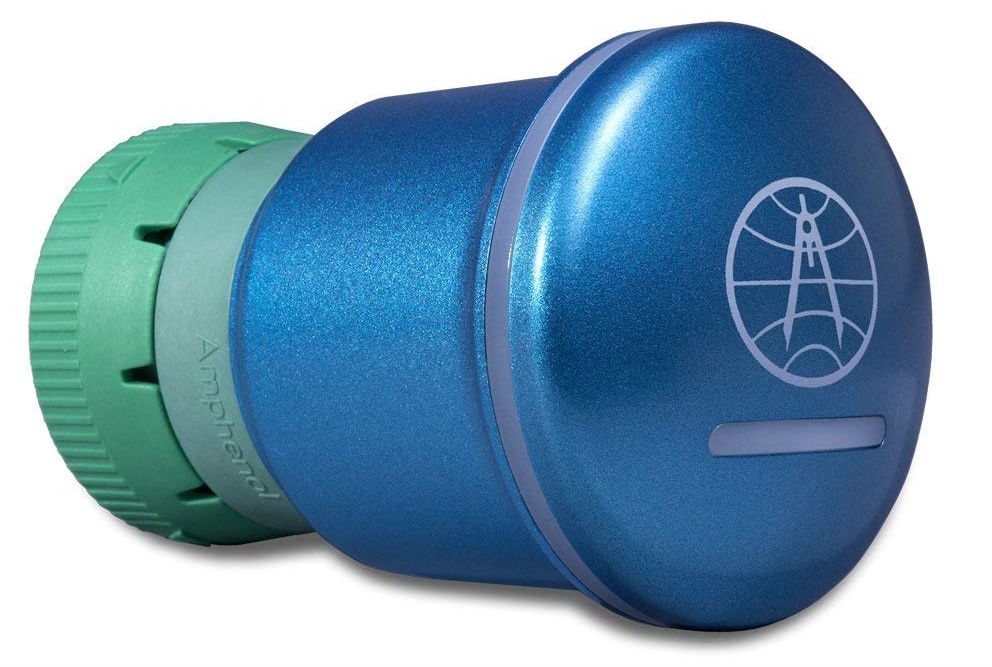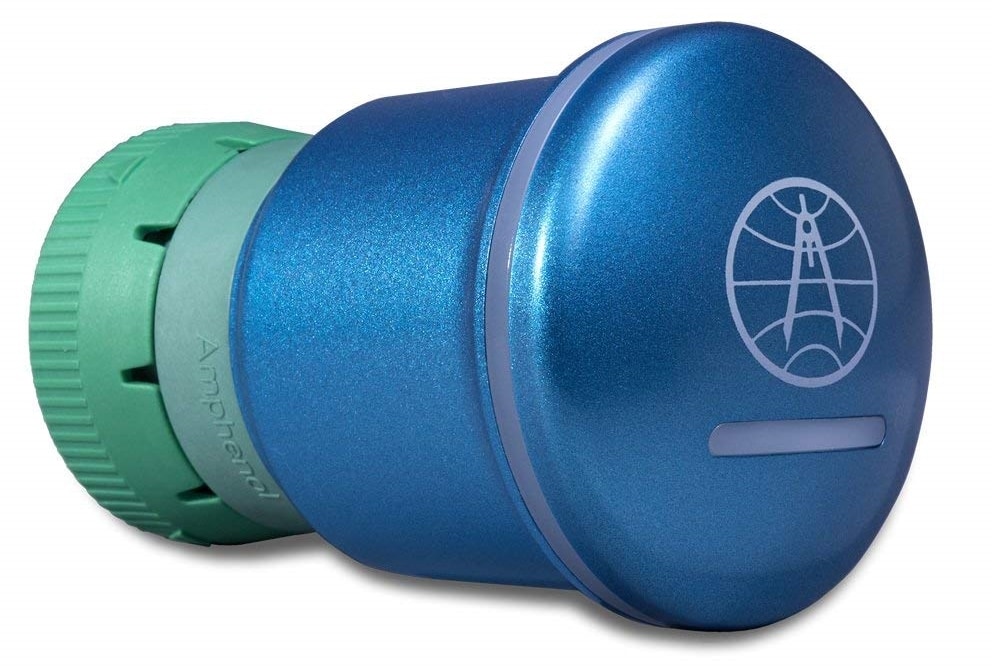 In order to save on installation costs, many drivers and fleet managers today are investing in ELD solutions that are easy to implement and operate. In this regard, the Rand McNally ELD 50 is one of the best ELD devices you can buy today.
The hardware works with Driver Connect app installed in the driver's phone or tablet. Once you have installed the app in your phone and the device on your truck, you can link the device to the app using Bluetooth.
This ELD solution will be using your cellular data plan to upload recorded logs from the device to the Rand McNally Web Portal. While this is the case, the functioning of this product will not be impaired by lack of cellular network coverage. When this happens, the product will continue to record and store logs temporarily on its internal memory for up to 2 days.
Pros
Can store logs temporarily for up to 2 days
Comes with a customizable dashboard
Easy to implement and use
Features a few diagnostic gauges for the engine
Provider offers a Web Portal
The Rand McNally Mobile App can hold up to 8-days worth of logs
Comes with a 9 pin installation connector
Cons
The ELD does not come with a display device
5. BigRoad DashLink ELD – The Best ELD for a Small Fleet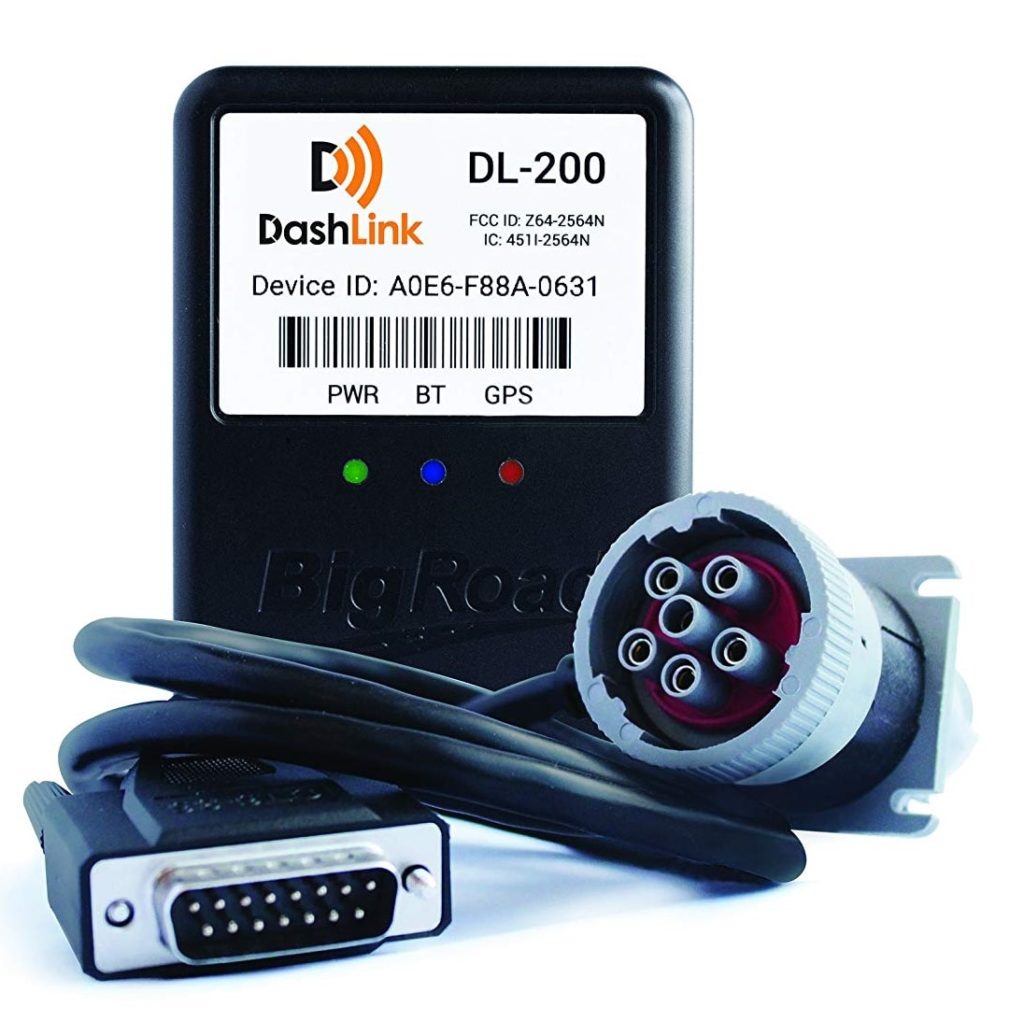 If you are looking for an ELD solution for a smaller fleet or owner-operator trucking business, affordability should be a consideration. In such a case, affordable products like the BigRoad Dashlink ELD will come in handy.
With this provider, you will get the ELD hardware free of charge. Again, the monthly software subscriptions by this provider are also very friendly to your pocket.
In this regard, you will only be required to pay $19.50 per month for your subscription. While this is an affordable product, it is very reliable and offers powerful basic ELD functionalities. Having been designed for smaller fleets, this product does not have many advanced features. However, the solution is great for HOS compliance.
Pros
Great choice for small fleets
DOT and FMCSA compliant
Intuitive interface
Easy installation
Quite affordable
Gives out accurate diagnostic logs
Supports Bluetooth connectivity
Comes with a 6 pin installation connector cable
Cons
Has a limited number of features
6. J. KELLER Encompass eLog Electronic Logging Device – The Best ELD for Compliance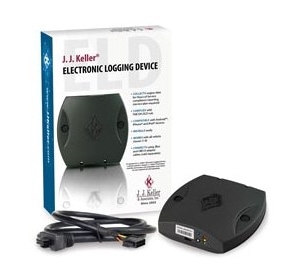 Would you rather invest with a reputable brand? Well then, the J.J.KELLER Encompass eLog Electronic Logging Device will be a great choice. Despite its simple design, this ELD is packed with powerful and highly beneficial features for drivers and fleet managers.
Basically, the device was primarily designed to address ELD compliance needs. As such, the ELD only has a few features to offer. However, the product will offer you several capabilities, beyond logging. For instance, the product features GPS tracking, Navigation and DVIRs.
Quite versatile for such a simple device, don't you think?
Pros
Offered by a reputable provider
Features an intuitive interface
Supports 15 different HOS rule sets
Backed by an Encompass back-office compliance management
Offers several payment plans
Delivers enhanced compliance and performance
ELD mandate compliant
Cons
You will have to buy a display device separately
7. Linxup ELD - The Best Dedicated ELD System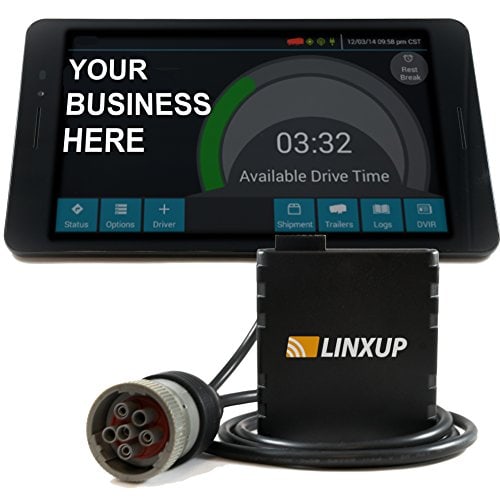 For years now, Linxup has been a leading provider of GPS fleet management tools and asset tracker solutions. As such, the ELD by this provider is one of the best in the market today.
In addition to being certified by FMCSA, this product has been proven to help owner-operators improve their CSA scores. When it comes to DOT interventions and audits, the Linxup ELD will ensure that you are always on the safe side.
As one of the best dedicated electronic logging systems in the country, the product comes with everything you will need.  Basically, the solution will keep track of HOS, alert the fleet managers and drivers of violations, allows drivers to easily change duty status and offers several other features.
Pros
Helps improve CSA score
FMCSA compliant
Comes with a dedicated data plan
Alerts you of critical violations
Provider offers video tutorials
Quality and durable hardware
Intuitive interface
Allows for easy access of reports and roadside inspections
Cons
Will not allow you to link your own devices
8. Gorilla Safety ELD – The Best ELD for Fleet Management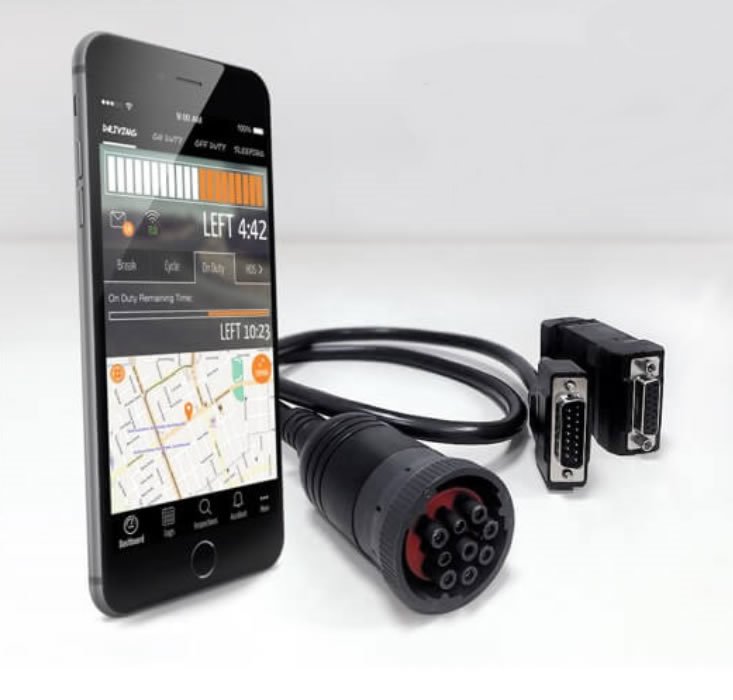 Gorilla is one of the newest, yet magnificent players in the industry. The Gorilla Safety ELD, for instance, is rated one of the best electronic logging devices in the market today.
Many of the drivers using this product are particularly happy that the device has been helping them better their CSA score. Again, the product has also been said to be very useful with accident investigations and driver training programs.
Having been designed to work with almost any vehicle class, the product comes with a 9 pin and a 16 pin installation adapters. The installation of the device is also very easy. This may be attributed to the fact that it is a plug n' play device.
For enhanced control and easy administration, the provider offers a Gorilla Web Dashboards for fleet managers.
Pros
Works as an AOBRD or ELD device
Quite affordable
Packed with features beyond logging
FMCSA compliant
Offers accident scene management tools
Alerts you when vital documents are about to expire
Allows for easy organization of safety records
Cons
No mechanism in place for assigning un-logged driving to specific drivers
9. PeopleNet Display.4 –The Best High-End ELD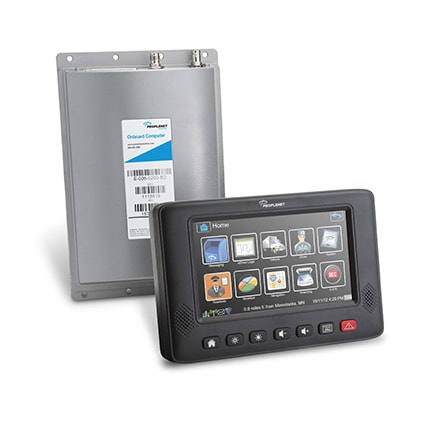 The former PD4 may not be an electronic logging device, but is one of the best AOBRD devices available today. As such, you may only use it in your vehicle if you installed it before the December, 18 mandate deadline.
Recently, the PeopleNet ELD provider announced that it will be selling Fleet Services' eFleetSuite ELDs with their dedicated ELD system.
One thing you will love about this system is the robust, durable and reliable construction of the hardware. Another innovative thing you will like about the dedicated system is the Display.4 proprietary tablet.
This touch-screen display interface tablet serves as the display device for the ELD. Over the years, many drivers and fleet managers have come to love this system and report that it has the least likelihood of failing.
Pros
Offered by a reputable provider
Fitted with a built in ALK CoPilot navigation
Support for 4G LTE cellular communication
Responsive customer support
Customizable real-time speeding and safety alerts
Comes with an Intuitive touch-screen display
Incorporates multi directional video cameras
Cons
The PeopleNet Display 4 lacks an ELD mode
10. Blue Ink Technology – The Most Affordable Electronic Logging Device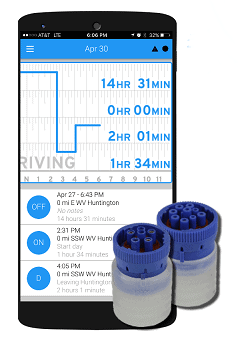 Ranging from affordability to enhanced performance, Blue Ink Technology (BIT) device makes is a great logging device. Unlike most other electronic logging devices in the market today, this product does not require you to pay monthly software subscriptions.
As such, you will only have to pay the upfront cost for the hardware and that is all the money you will ever spend on the ELD.
However, the product is very basic and has a limited number of features and capabilities beyond logging. While this is the case, the BIT ELD will ensure that you remain compliant with ELD mandate requirements.
Pros
DOT ns FMCSA compliant
Does not require monthly subscriptions
Movable from one vehicle to another
Easy to implement and operate
Provides you with enough logs for your cycle set
Helps you set up maintenance schedules
Cons
Only offers basic features and capabilities
Things You Need to Know Before Buying an ELD Device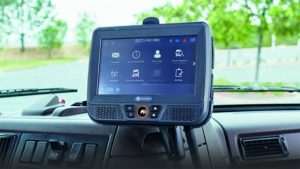 Whether you had planned to have these devices installed in your vehicles or not, it is now mandatory for commercial vehicles to comply with the ELD mandate.
As such, paper logs are going to be a thing of the past moving forward. This move by the government to make electronic logging devices mandatory in trucks has caught many fleet managers and truck owners unprepared.
Regardless of the case, you will still need to have the right equipment installed in your vehicle(s). While this is the case, electronic logging technology is relatively new to many managers and drivers. As such, a good number of drivers and fleet managers in the country are already having a hard time choosing the best ELD for their needs.
In order to choose the right ELD solution from the hundreds of ELD providers available today, there are several considerations that you need to make.
That said, here are a couple of considerations you should make while shopping for the right ELD solution:
1. Compliance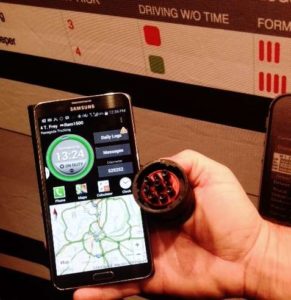 While most of the leading ELD products available today offer an assortment of features and capabilities, your preferred provider must be compliant with FMCSA and ELD mandate requirements.
Just to be on the safe side, it is advisable to first check the FMCSA list of approved electronic logging devices before making your final choice. This way, you will be able to buy only the devices that meet the ELD mandate regulations. Hence avoid penalties.
Additionally, you also need to consider the types of connectivity supported by your preferred product. Basically, it will be better to opt for the ELDs that support USB and Bluetooth connectivity as opposed to the cellular based models.
With cellular-based units, you will need to be within cellular network coverage for the device to record and transmit the required data. Such devices may not work as required whenever the truck is out of cellular network coverage.
2. Hardware Compatibility
Different ELDs feature different designs. This being the case, it is advisable to go for a solution that offers universal devices.
Under normal circumstances, it is highly likely that you have different classes of vehicles in your fleet. Choosing an ELD that is compatible with different vehicle classes will help the fleet save some money in several ways.
To begin with, you will not have to invest a lot of money and time training your drivers how to use different ELD devices. With a universal ELD solution, all drivers need to learn how to use one ELD device regardless of the vehicle they drive. This goes a long way in simplifying the complexity of the whole system.
3. Simple Operation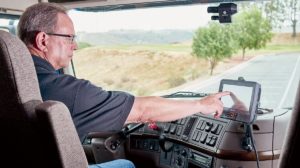 As you already know, drivers are already busy people as is and will not have all the time to operate an ELD while driving. To make things a bit easier and safer for them, it is important that you get an intuitive ELD solution for your fleet.
In this regard, your preferred solution should make it easier for the drivers to update their statuses, quickly provide compliance reports and complete inspections. Again, your preferred solution should also have a robust data collection and reporting mechanism in place for the fleet manager.
As such, your preferred ELD solution should be easy to use, yet feature powerful tools and capabilities for compliance and fleet management.
4. An Event-Based Solution
A good number of ELD products available today are simple time-based devices. This means that the system requires the ELD device to provide information on such aspects as its location, and the speed it is moving at, at regular intervals.
In most cases, such devices this polling occurs at intervals of one to fifteen minutes, depending on the frequency of the device. With such a system, you will be left to guess what might have happened to your vehicles during the period the device was not communicating.
To avoid this guesswork, it is advisable to invest in an event-based electronic logging solution. Such ELDs are designed to be transmitting the required data whenever a trigger event is detected.
In this regard, trigger events will include harsh braking, acceleration, steering or engine diagnostics. As you can imagine, such a system will definitely help you make more informed decisions for your business.
Our Final Verdict
While the ELD mandate is compelling you to install electronic logging devices in your commercial vehicles, these devices can help you with much more than just compliance.
The right ELD for your vehicles will depend on your business requirements. For instance, some of these products are very basic and only have the features you need for compliance.
However, there are other ELD solutions that are equipped with a range of features and tools to make your day-to-day operations simpler. Regardless of your business requirements and budget, this guide will help you choose the best electronic logging solution for your fleet.