It is now official, trucks in the US must have the right electronic logging devices (ELDs) installed. The best ELD devices are meant to replace paper logs to monitor a driver's hours of service.
This mandate only applies to carriers in the country and drivers who are required to maintain records of duty status (RODS), in accordance to federal hours-of-service regulations.
This being the case, all the trucks and commercial buses in the country must have ELDs installed by the deadline. This has seen many vehicle owners rush to buy these gadgets without knowing what to look for.
With hundreds of products to choose from in the market, choosing the best electronic logging device can be a daunting task.
In this regard, you need to consider such aspects as the compatibility, ease of use, configuration and functioning of the product. To make the choice a little easier for you, here are reviews of 15 of the best ELDs in the market today.
Best ELD Devices 2019 – Top 15 Providers Reviewed
| Image | Device Name | Initial Cost | Ongoing Fees (per Truck) | FMCSA Compliant |
| --- | --- | --- | --- | --- |
| | KeepTruckin ELD | $150 | $20 or $30 plans | Yes |
| | Transflo ELD T7 | $99 | $23 or more | Yes |
| | Omnitracs (IVG) Intelligent Vehicle Gateway Master Pack | $799+ | $23 or more | Yes |
| | Rand McNally – Electronic Logging Device ELD 50 | $149 | $15 or more | Yes |
| | BigRoad DashLink ELD | $0 with Lease | $15.6 per user/truck | Yes |
| | J.J. KELLER Encompass ELog Electronic Logging Device | $0 with BYOP option | $11 or less | Yes |
| | Linxup | $250 or $100 with contract | $30 to $50 | Yes |
| | Gorilla Safety ELD | $0 | $10 | Yes |
| | PeopleNet Display.4 | $0 with lease option | $30 to $60 | Yes |
| | Blue Ink Technology ELD | $295 | $0 | Yes |
| | EROAD Ehubo ELD | $0 for monthly plan | $30 to $60 | Yes |
| | CarrierWeb CarrierMate | $749 or Lease option | Less than $31 | Yes |
| | Samsara | $99 | $33 | Yes |
| | AT&T Fleet Complete | $0 | At least $25 | Yes |
| | Verizon Connect | $0 | $60 | Yes |
Get FREE ELD Device Quotes
1. KeepTruckin ELD – Best Overall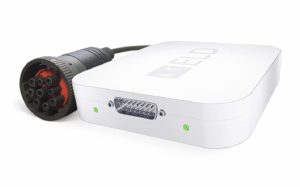 As compared to the hundreds of other electronic logging devices available today, you will find the Keep Truckin ELD more reliable and easier to use. In addition to the reliable ELD device, the provider also offers, a slick, user-friendly and modern app along with the product.
To begin with, you will rest assured knowing that the ELD is compliant with all the current FMCSA requirements. Therefore, this is a preferred device for drivers trying to comply with the ELD mandate.
With this app installed in your phone or tablet, you only need to connect the ELD device to your vehicle and connect the device to the phone or tablet.
In this regard, you have two main ways; you can either pair your ELD device to your iOS or Android device via USB or using Bluetooth. Once the two are paired, the driver's driving time will be automatically recorded in real time, in accordance to the ELD mandate requirements.
As you may know, you will need much more than just a reliable ELD device to meet the requirements. As such, you should consider buying from providers who are offering the complete package. In this regard, the Keep Truckin ELD solution comes complete with everything you will need.
With every purchase of the product, you will also get 6-pin and 9-pin cables, ELD hardware device, instructional manual and a DOT reference card.
Why The KeepTruckin ELD Is Our #1 Pick
To ensure that you have seamless after sale services, you will find the support team at Keep Truckin readily available. As such, fleet managers and drivers can either email or call the KeepTruckin Support Team any time of the day, 7 day a week.
The app itself is free to download from either Google Play Store or Apple App Store.  The Keep Truckin system is considered to be one of the best bring your own device (BYOD) today for a reason.
This system offers you all the information you need, allowing you to create vehicle inspections, view logs, send messages among other capabilities. After buying and installing the Keep Truckingre device, you will require a software subscription to keep things working as they should. In this regard, the provider offers several monthly plans for you to choose from.
You should choose a monthly subscription plan that you find appropriate. For instance, the basic service plan that costs $20 a month offers DVIR, logs, basic fleet management tools and messaging.
If this does not work for you, you can opt for the more advanced plan that costs $30 a month. This plan offers IFTA reporting and other advanced features, in addition to the basic plan functionalities.
If you will be providing a tablet or phone to the drivers for use with the devices, you also need to budget for cellular data plan. This should cost you an additional $15 or less a month.
Pros
Relatively affordable to maintain
Features a user-friendly interface
Offers more advanced BYOD features and functionalities
Relatively easy to install and use
You will get 24/7 Support
Reliable and simple enough for any truck
Cons
Smaller fleets may have to pay the first year subscription upfront
2. Transflo ELD T7 – The Best GPS-Based ELD Device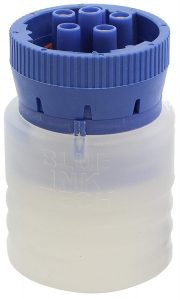 With Transflo ELD T7, the provider offers you one of the best telematics and mobile strategies for managing your fleet. Since everyone is rushing to meet the deadline for the ELD mandate, you will be happy to know that this product is compliant with the various requirements by the FMCSA for ELD devices. As a matter of fact, Transflo ELD T has been certified by the FMCSA to meet such requirements.
In addition to the robust and reliable device, the manufacturer offers one of the leading fleet management and fleet tracking software in use today. With such a solution at your disposal, you will be able to collect data from each of the electronic logging devices installed in your trucks.
This innovative electronic logging device solution allows you to collect such information as individual truck locations, and truck loads in real time.
It feels good to have a solution that allows you to manage all your trucks from one place, doesn't it? Well, the innovative Transflo that comes with your Transflo ELD T7 allows you to do just that.
Further Reviewing the Transflo ELD
In this regard, Transflo Telematics offers fleet managers one of the best fleet management software and GPS fleet tracking in one package.  With this ELD solution, you will also be able to streamline operational expenses for each one of your trucks that is connected to the software.
With this system, the drivers will be able to use the free to download mobile app to manage electronic logs. The provider relies on the Transflo ELD T7, along with the mobile electronic log App and the Transflo Telematics Portal, to bring you a Powerful yet simple fleet management system.
One installed in the trucks, the T7 device will be using engine hours, engine status, idling, vehicle mileage and movement to accurately populate electronic truck logs for each driver on your fleet.
After installation of the T7 in your trucks, drivers will be required to install the Transflo Electronic Logs and Mobile App in their phones or tablets.
This app will allow the drivers to access vehicle inspection reports (DVIR), electronic logs and commodity lists, among other things from the ELD device. As for the fleet managers, this product gives you complete control over the whole system.
As the fleet manager, you will be using the Transflo Telematics Portal to view the performance and safety data on each one of your trucks. Additionally, this software allows you to see how each one of your trucks is being operated.
Pros
Offers complete control through the Transflo Telematics Portal
Relatively easy to install and use
FMCSA certified
Offers several monthly subscription plans
Comes with 16-pin and 9-pin installation harness
Features a cellular chip
Enhanced battery life
Compatible with all heavy-duty trucks
The Mobile App is convenient and easy to use
Portal makes it easy to view and manage individual truck information
Features GPS fleet software
3. Omnitracs (IVG) Intelligent Vehicle Gateway Master Pack – The Best Hands-Free ELD Device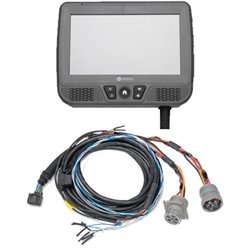 For decades now, Omnitracs has been offering fleet management and tracking solutions to its clients. The Omnitracs Intelligent Vehicle Gateway Master Pack (IVG) ELD is one of the best products by the provider, in this regard.
The solution operates on an industry-leading and has been proven to be one of the most reliable and robust ELD products in the market.
To begin with, the device itself features a sleek, compact and modern design. The product features an array of functionalities relevant to drivers and fleet managers. In addition to its appealing aesthetics, the product has been approved by FMCSA.
If you are looking for an experienced and reliable provider, the IVG by Omnitracs will be a great choice. In this regard, the provider has preferred partner for truck owners and fleet managers for more than 30 years now.
The provider has come up with appealing price plans to make this product more affordable to its esteemed customers. Omnitracs offers several device options as well as low monthly fee plans.
Further Review of Omintracs IVG
Once you have purchased the product, you will be contacted by the provider to set up a new service or provide an existing Omnitracs account number. This will cost you a one-time set up fee of $199 plus $25 for each of the trucks in your fleet.
This next-generation telematics solution offers a single application-enabling platform to make things easier for you. The unit features Intelligent Voice Interface. This feature allows drivers to have a hands-free access to important information on the ELD.
Drivers will love the Intuitive message notifications offered by this product as they result in less distractions.
Pros
Offers an intelligent voice interface
Features a 1024 x 600 resolution Touch screen display
Uses an industry grade processor
Offers terrestrial and Wi-Fi web browsing
Features intuitive message notifications
Offers Bluetooth connectivity
Features an easy to use interface
Relatively easy to install
Mobile Wi-Fi hotspot capable
Enhances compliance and your CSA score
Certainly one of the best ELD devices
Cons
You may find the product a bit expensive
4. Rand McNally - Electronic Logging Device ELD 50 – Easy to Install Electronic Logging Device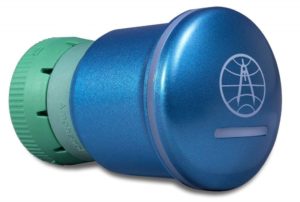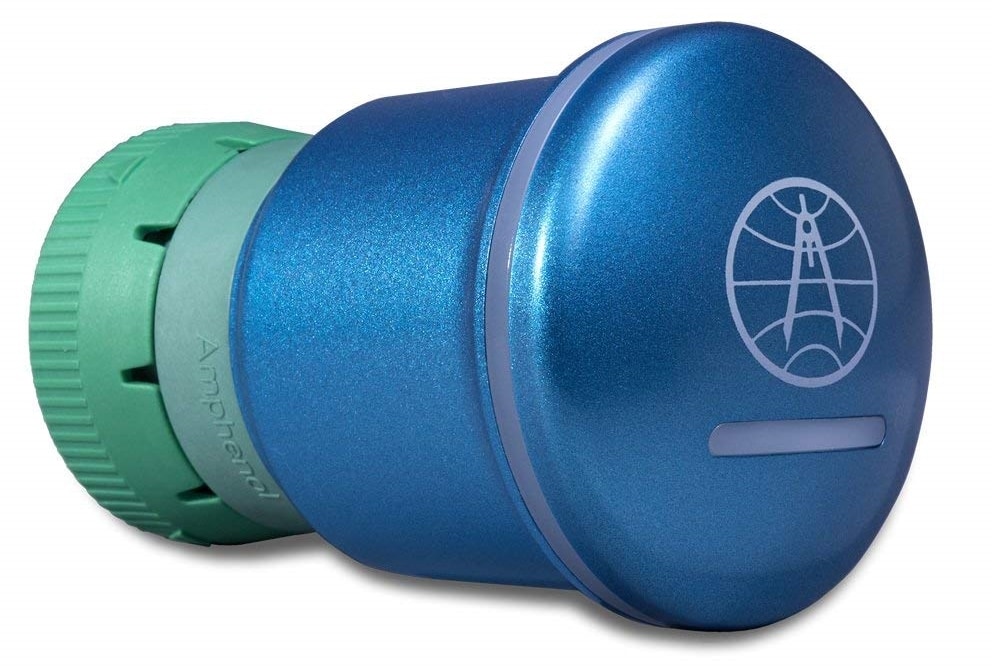 Get yourself an ELD device that installs in seconds; you only need to plug your ELD 50 to the J-Bus port, download the DriverConnect app, select a monthly plan and you are ready to go.
The product allows you to pair your ELD with a tablet or Smartphone using Bluetooth. Once connected, you can use your cellular data plan to store logs from the device to the Web Portal.
However, the functioning of the product will not be affected by a poor connection. In the absence of the connected phone or cellular connection, the ELD will continue to record HOS logs and store them temporarily on the device.
In such a case, the device is capable of storing your recorded HOS logs for up to 2 days. The device will also send you a notification when its memory is full so that you can transfer the data. When this happens, you will need to sync it to a tablet or Smartphone and transfer the data.
More Features from Rand McNally's ELD 50
The Rand McNally DriverConnect App is available for free for both iOS and Android devices. This App allows you to certify/view logs, send and receive messages, complete DVIRs and do several other things.
The device itself transmits engine data on the installed truck to the DriverConnect app. With such information, you will be able to make different engine diagnostics, including average fuel economy, battery voltage, boost pressure, coolant temperature and oil pressure.
Pros
Allows you to customize the dashboard
The provider offers a web Portal for data storage
The App can store 8-days worth of logs
Comes with a 9-pin connector
Offers several engine diagnostic gauges
Relatively easy to install
5. BigRoad DashLink ELD - The ELD for Smaller Fleets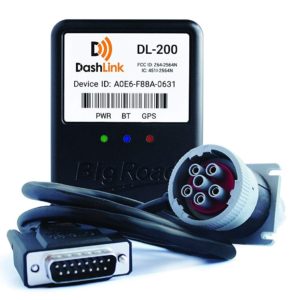 Are you operating on a limited budget? If so, it will be challenging for you to pay an upfront cost for the bets electronic logging device, bearing in mind that a good number of them are expensive.
To save you from this burden, the BigRoad provider offers you a solution with zero upfront hardware cost. Instead, the provider requires you to pay $19.50 per month. As such, a good number of owners and fleet managers find the product to be very affordable.
With the DashLink ELD, BigRoad is offering you an affordable logging solution that is compliant with both DOT and FMCSA requirements. The product is specifically designed for smaller fleets.
As such, it does not have the reporting and tracking features needed to manage larger fleets. With this product installed in your track, you will have a reliable way of creating engine logs.
More on the DashLink ELD
With regards to versatility, the DashLink ELD is interchangeable between drivers and vehicles. Again, the product may be used as an automatic onboard recording device (AOBRD) or an ELD device. As such, you may start using the device as your AOBRD for the time being and still be able to transition to ELD system when the time comes.
For owner-operators or managers of small fleets, this product is designed to offer you a great hours-of-service (HOS) compliance alternative.  Although this is a more affordable option, it will still allow you to maintain your margins and comply with the ELD mandate requirements.
Pros
Comes with a 6-pin connector cable
Relatively affordable
ELD mandate compliant
Offers Bluetooth connectivity
DOT compliant
Pairs to BigRoad Mobile App for iOS and Android devices
Offers accurate diagnostic logs
Comparatively easy to install and use
Cons
Has limited features and functionalities
6. J.J. KELLER Encompass ELog Electronic Logging Device – The Best Compliance ELD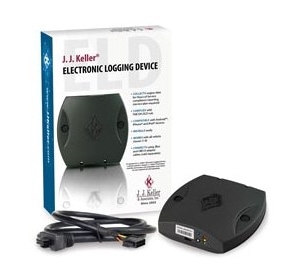 J.J. Keller is a renowned provider in the tracking compliance industry today. Having been in business for a comparatively long period, this provider is knowledgeable on what is required for ELD compliance.
In this regard, the provider offers you one of the best Encompass Elog Electronic Logging Devices in the market today, the J.J KELLER Encompass ELD. The device is rather simple in design and functionality.
This Encompass ELD is primarily designed to meet ELD compliance requirements. As such, it only has a limited number of features to offer, including DVIRs and Logs.
GPS tracking and Navigation are some of the fancy add-on features you will love about this product. Other features you will find in this unit include messaging, document scanning capabilities and engine diagnostics.
The Encompass back office for this product has an array of compliance tools to offer. The installation of this product is very easy. To being with, you should connect the ELD device to the diagnostic port in your truck.
You will then need to pair the device with your tablet or Smartphone via Bluetooth. Although you can get financing options for this product, the upfront price of the ELD is about $199.
More on the J.J. Keller
Most financing options for this product are quite affordable, most of which come as a 2-year contract. The provider also offers a one-time implementation and training fee for the drivers, which depends on your fleet size.
If you bring your own display device, the J.J KELLER fleet management will be availed to you for $25.50 a month. If this is your preferred arrangement, you should also expect to spend about $15 in cellular data charges.
If you decide to buy the J.J. Keller provided tablet along with your ELD device, your fee will be $59 per month. This fee will also cover your Verizon data plan. If you have more drivers than vehicles in your fleet, the provider will charge you an extra $3.50 per month for each additional driver.
Pros
Sold by a renowned provider
Allows you to pay as you go
Offers an array of payment plans
Allows you access to the Encompass back office compliance management
Offers 15 different HoS Rule sets
Compliant with ELD mandate requirements
Features a user-friendly interface
Offers variable service plans
Designed for enhanced performance and compliance
Cons
Requires you to buy a separate display device
7. Linxup ELD – The Best Dedicated ELD Solution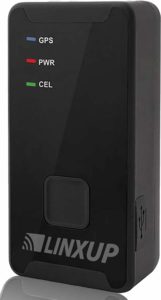 If you are conversant with the trucking compliance industry, you probably are aware that Linxup is a leading provider of asset trackers and GPS fleet management tools.
The Linxup ELD device by this provide has been certified by the Federal Motor Carrier Safety Administration. With the ELD mandate deadline approaching, you will find this product to meet the requirements.
In addition to being compliant with FMCSA requirements, this you will find this product very helpful in several ways. The product allows you to have better roadside inspections on your truck and to better your CSA score.
This makes the Linxup ELD a preferred logging device for owner-operators. Additionally, the ELD will ensure that you remain on the good side of DOT audits and interventions.
Essentially, the device is designed to accurately keep track of your hours of service (HOS), alert the driver and fleet manager of serious violations and give you access to roadside inspections.
Linxup ELD Top Features
With this device, you will also be able to change the driver duty status, something many other ELDs may not offer. The Linxup ELD also has something to offer fleet managers. The product helps fleet managers track maintenance reports for various vehicles and the time spent idling.
As a result, you will be able to prevent fuel wastage and manage your vehicles in a better way for improved profitability.
The provider also offers award-winning GPS fleet tracking and allows you to monitor several aspects of each one of your trucks. For instance, the provider can help you monitor the speed, direction and address of each vehicle in real time.
Pros
Offers all the dedicated devices you require in one package
FMCSA compliant
Package includes a dedicated data plan
Provider offers video tutorials
Quality hardware that is guaranteed to work
Warns you of critical violations
Offers easy access to roadside inspections and reports
Allows you to change the driver duty status
Helps you improve your CSA score
Cons
Does not allow you to bring in your own devices
8. Gorilla Safety ELD – The Best Complete Fleet Management Solution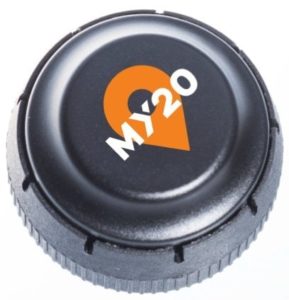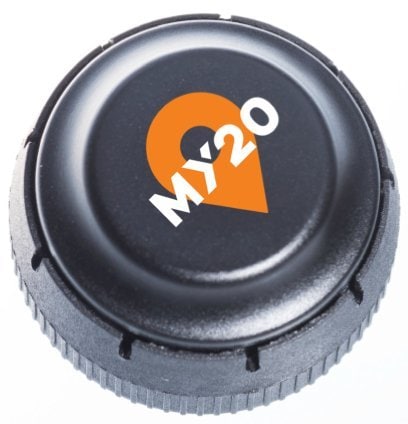 Gorilla Safety may be a new player in the fleet management industry, but their products are some of the best today. In this regard, the Gorilla Safety ELD is one of the Best Electronic Logging Devices you can buy in the market.
The company was founded in 2013 with help flees with accident investigations, CSA scores, driver training and maintenance programs.
Following the publishing of ELD requirements Gorilla Safety was among the very first providers to integrate full fleet management solutions to their ELD device. As a result, the Gorilla Safety ELD offers much more than compliance to ELD mandate requirements.
The provider offers you a complete package, comprising of the ELD device, Elog mobile App, website and an array of additional features. This ELD solution has been proven to make fleet management easier and more efficient.
Easy Installation & Updates
The installation of the device itself is relatively easy. In this regard, the product comes with 9-pin and 6-pin adapters to connect to the diagnostic port in the truck.
Essentially, this ELD unit is a plug and play device, which makes the installation even easier. You will also like the fact that the ELD allows you to update software. Fleet managers will have full access to Gorilla's Web Dashboard to store and view vital details.
This dashboard will notify you when documents are about to expire for each of the trucks as well as when inspections are required. Additionally, the product is packed with an array of tools that are meant to make fleet management easier for you.
Pros
Offers unique features beyond logging
Comparatively affordable
May be used as an ELD or AOBRD device
Compliant with ELD mandate requirements
Makes it easier to organize safety records
Notifies you when documents are about to expire
Offers several accident scene management tools
Cons
Does not have a mechanism to allocate un-logged driving to specific people
9. PeopleNet Display.4 –The Best High-End Electronic Logging Device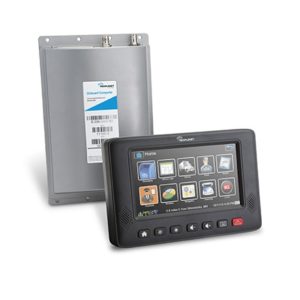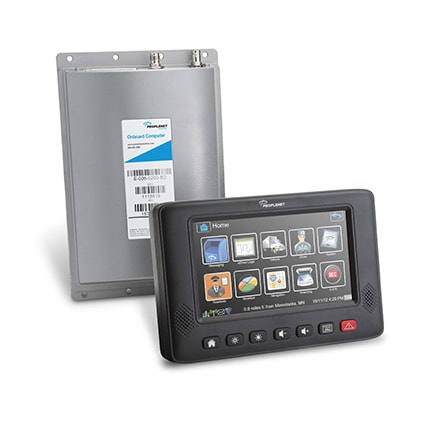 If you do not mind spending more money to get the best fleet management solution, you should consider buying the PeopleNet Display 4 device.
While the former PD 4 is not an ELD device, the product is a great AOBRD device and you will still be able to use it, if installed before the December, 18 deadline. However, the provider recently announced that it will be selling ISE Fleet Services' eFleetSuite ELDs.
Being one of the premier fleet management providers in the industry, you should expect nothing short of the bets from this company. The PD 4 device hardware is available in several varieties, such as consumer-grade Android options.
One of the renowned devices by this manufacturer is the Display.4 proprietary tablet. This product offers an easy to use, touch-screen display interface. Additionally, many users have reported this device to be highly reliable, with minimal probability of failing.
Reliable Reporting & Powerful Device
In addition to the robust and reliable device, the provider will also offer you superior Back office tools and reports. Such a system presents you with a more powerful, yet simple way of managing and keeping track of your vehicle performance. The provider also happens to be one of the very first dedicated fleet management companies to offer support for 4G LTE cellular communication.
As part of their dedicated fleet management system, the provider will be selling the ISE ELDs to fleets with less than 50 vehicles. The ELDs are self-certified and have been proven to be compliant with FMCSA requirements.
Pros
The provider is reputable
Offers one of the best dedicated fleet management solutions
Great support
Features a user friendly touch-screen display
Supports 4G LTE cellular communication
Offers messaging functions
Offers several engine diagnostics
Features built-in ALK CoPilot navigation
Integrates multi directional video cameras
Allows you to set safety and speeding alerts in real time
Cons
The PeopleNet Display 4 does not have an ELD mode
10. Blue Ink Technology – The Best Low Cost Electronic Logging Device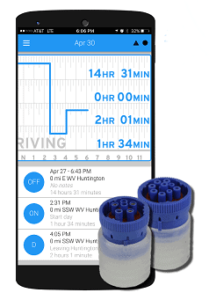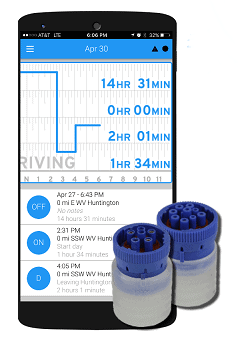 Ease of installation, reliable fleet management tools and affordability are some of the best selling points of the Blue Ink Technology (BIT) ELD device.
As you may have noticed, almost all the best Electronic Logging providers in the market today require a monthly fee for their services. Well, you will be glad to learn that the BIT electronic logging device does not require you to pay any monthly fees.
For a relatively low one-time cost, you will get the easy-to-use, accurate Blue Ink Technology LED, FMCSA Certified BIT ELD App and access to their website.
Although the product is a reliable ELD, it is only suited for the light to medium-duty vehicles. The fact that it does not require a monthly subscription makes it one of the most affordable LED solutions available today.
An Affordable ELD Solution
While it is a low cost option, the BIT ELD allows you to use the BIT app on your phone to record your hours of service. The product may be moved from one vehicle to another, allowing you to record your HOS in different vehicles. The ELD device is registered with FMCSA and is compliant both DOT and FMCSA regulations.
In addition to maintaining accurate and up to date logs, this device will help you carry out several other tasks. For instance, you will be able to update duty status whenever you need to, certify and view logs from the previous day.
The product will also ensure that you have 8-14 days worth of logs for your cycle sets. You can also use this ELD to find out any flag issue with your truck.
Pros
Does not require any monthly fee
Comparatively easy to install and use
May be moved from one vehicle to another
Ensures that you have enough logs for your cycle set
Notifies you of flag issues in the vehicle as they occur
Allows you to set up maintenance schedules for your vehicles
Allows you to access and manage driving records
FMCSA and DOT compliant
Cons
Has limited functionalities for managing larger fleets
11. EROAD Ehubo ELD – The Best ELD for Enhanced Driving Behavior
Fleet management and FMCS compliance has never been easier than it is with the EROAD Ehubo ELD. Being one of the best electronic logging devices in the market, the Eroad Ehubo ELD makes fleet management more effective and easier.
In its functioning, the unit uses an electronic distance recorder to record, store and transmit data through cellular network.
With this product, you will be able to monitor important information about your vehicles, including location, route, and distance among other details.
The hardware itself features a robust design that has been proven to be tamper-evident and ideal for use in a wide range of temperatures. The product uses external sensors and internal sensors to accurately measure the distance travelled.
Very Accurate Reporting & Performance
In addition to these, the unit also relies on micro-electrical-mechanical systems (MEMs), vehicle data and GPS to deliver an exceptionally high degree of accuracy. The product uses a rather unique technology platform. The platform is specifically designed to deliver high performance, whilst maintaining the required evidential and financial standards.
The EROAD ELD has undergone several audits by the relevant regulatory bodies in the USA and New Zealand to prove its effectiveness and compliance.
Pros
Tested and approved by the Secretary of State and PIT Group
FMCSA compliant
Allows for electronic retrieval of information
Offers 99.9 percent service uptime
Meets industry security and technical requirements
Uses GPS technology
Equipped with independent sensors
Suited for a wide range of temperatures
Features a tamper-evident construction
Fitted with a touch-screen display
Supports several HOS rule sets
12. CarrierWeb CarrierMate ELD – The Most Affordable ELD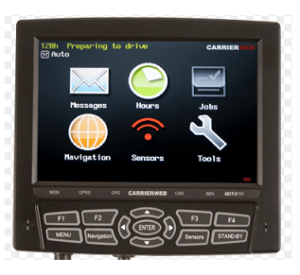 The Carrier Mate ELD by CarrierWeb is a product that is designed to always give you precise information and data regarding your vehicles.
The ELD is essentially an onboard computer with electronic logging capabilities and a touch screen. Although the product is rather simple in design, it offers powerful fleet management tools.
The product features software that is easy to configure to your individual requirements. The carrierMate device is always connected to the CarrierWeb website to send and receive data.
The product may also be integrated with navigation systems. This will allow the driver to operate safely and more efficiently. When used appropriately, this product has a horde of benefits to offer drivers and fleet managers.
Can Help You Improve Fuel Efficiency
To begin with, the unit continuously monitors engine working and idling hours. This has been proven to help drivers better their driving habits for enhanced fuel efficiency.
With these gadgets installed in your vehicles, you will be able to get a quick overview of the entire fleet whenever you want to. The product will also allow you to schedule maintenance for your vehicles. In this regard, you will find the maintenance management module of the ELD very useful.
Pros
Comparatively affordable
Ensures compliance with HOS rule sets
Gives you access to responsive customer support
Helps you plan ahead for your fleet
Streamlines operations
Improves profitability
Offers a continuous connection to the CarrierWeb website
Comparatively easy to install
FMCSA compliant
13. Samsara ELD – The Best Lightweight ELD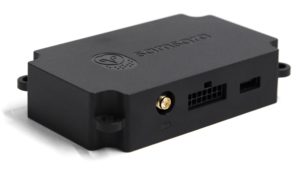 Get truly innovative electronic logging devices for your trucks. Although the primary objective of installing the devices may be to meet FMCSA requirements, you should not just leave it at that.
It always helps to buy a product that can do much more and make your work easier. The Samsara ELD device is one such device. The product couples a superior fleet management technology with Sensors and GPS technologies to enhance compliance and safety.
The product was mainly designed to streamline operations for both drivers and fleet managers. Again, you will be glad to know that the Samsara ELD has been approved by FMCSA.
More on Samsara ELD
With this unit, you will simplify management and reduce operational costs in your fleet. In this regard, the product gives you accurate HOS, Wi-Fi, GPS, maintenance and dispatch data on the various vehicles in your fleet.
Once the ELD is installed, individual vehicles will be transmitting live data though the gateway to the linked devices. Using the Driver App in their phones, drivers will be able to manage their HOS logs as well as violations from. Te product also allows you to manage critical violations from the dashboard.
Pros
May be paired with Android and iOS devices
Great return on investment
Features a navigation system
Allow you to view and certify HOS logs
Delivers reliable dispatching and inspection reports
Does not require cellular connectivity to function
Supports Wi-Fi connectivity
Cons
May lack important features for maintaining a larger fleet
14. AT&T Fleet Complete – The Best Electronic Logging Device Below $50
The AT&T Fleet Complete is an ELD that is designed to automate elog books, save time, expediate DVIR reporting and speed up inspections for your vehicles. Whilst doing all these things, the product will also help you comply with ELD mandate requirements.
Once you have connected the device to the engine module in your vehicle, you will need to install the ELD mobile App in your phone. This will allow you to view your available drive time as well current driver status. You can also use this App to update your duty status.
More on AT&T Fleet Complete
However, the device will automatically set the status to drive when it detects a movement faster than 2 MPH. The ELD will also send you notifications on violation thresholds. As such, the product will help you manage violations, better your CSA score and remain compliant.
Pros
Offers an array of office back-end tools
Notifies you of serious violations
Lets you know the remaining drive time
Allows you to change drive status
Offers a reliable DVIR solution
Features a mechanical portal
Comparatively affordable
Every purchase comes with a tracking bundle
15. Verizon Connect – Best ELD for Mid-Sized Fleets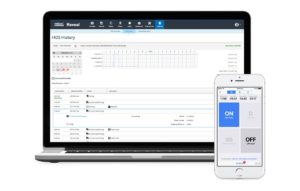 As you may have noticed, the leading telecommunication giants are now venturing into the fleet management domain. The Connect Reveal ELD by Verizon is one of the products that are designed to offer you a great value for money.
In this regard, the product is sold as a bundled product. Basically, the Connect Reveal serves as a one-stop shop for fleet managers and drivers trying to comply with the ELD mandate requirements.
Despite its simple design, the product has been listed as one of the FMCSA compliant electronic logging devices in the market. The provider allows its customers to choose from an array of hardware and monthly software payment plans.
More on Verizon Connect
Once installed, this solution will offer you on boarding assistance, a two-way messaging platform, DVIR software, compliance reporting and  mobile device management, among other features.
It's worth noting that Verizon also bought Fleetmatics Reveal, so they got the technology of that device. Hopefully we will see more features from Verizon Connect in the future.
Pros
Offers a great value for money
The provider offers hardware installation
Comes with an in-cab mounted tablet
Features two-way messaging
Offers on board assistance
Delivers compliance reporting
Features DVIR software
Comes with a mobile device management software
Cons
You must buy the ELD as a bundled product
Things You Need to Know Before Choosing an ELD Device
Like many other drivers and fleet managers in the US, you must be accustomed to paper logs or perhaps the logging software that has been in use for a considerable period now.
As such, the electronic logging device (ELD) mandate must have caught you by surprise.  Do not worry, you are not alone… it is official now, every driver should have a working ELD in his or her truck by December, 18.
Just like any other law in existence today, the ELD mandate has several requirements that have to be met by all truck drivers in their vehicles.
For instance, you will not be able to install new automatic on-board recording devices (AOBRDs) on your truck(s) after December 18. However, you may continue using the AOBRDs that were installed in the truck prior to this date.
While it is now a requirement for trucks to have these devices, there are still many things that drivers and fleet managers do not understand about the ELDs.
While trying to beat the deadline, many users are likely to make rush decisions and end up buying the wrong ELD. Prior to choosing an ELD device and service provider, here are some of the important things you should consider:
1. Compatibility and Ease of Use
Well, this is a new technology and everyone is trying to figure out which Electronic Logging Device solutions will suite his or her application.
If you own or manage a fleet of vehicles, you are likely to have different makes and models of trucks in your fleet. As such, it is advisable to get an ELD solution that works with almost any class of vehicles.
You may not know this yet, but getting a universal solution will save you some money and time in several ways.
For instance, you will not have to train your personnel and drives how to install and operate multiple systems from time to time.  Again, having a universal ELD solution makes things easier for you and the drivers.
Get an ELD That's Easy to Use
You also need to understand that you may need to sell your truck and buy a new one in the future. With a universal solution, you will not have to buy a new device for the new vehicle.
Another things you should pay attention to is the complexity of the solution. Drivers are busy people as is; you should not make their working conditions more difficult by buying a complicated ELD.
Get a solution that is comparatively easy to master and use for everyone. In this regard, it is advisable to buy a device that drivers find easier to complete vehicle inspections, update status and deliver compliance reports. In this case, you should get a product with a user friendly interface.
2. Fleet Management System and Configuration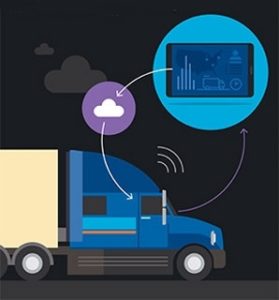 Normally, ELD providers offer fleet management for their devices as well. However, this may not always be the case.
Therefore, you must check to see whether the provider offers fleet management as well, before buying your preferred ELD.
With this service, it will be easier for you to manage your truck through the device. This will, in turn, improve the productivity and efficiency of your fleet.
Other than this, you also need to get a device that is highly configurable and upgradable. As a guide, the best ELD device should offer much more than just the minimum info required for RODS reports.
More on the Configuration
It is advisable to settle for software that may be configured to your specific needs. As ELD technology advances, you will need to upgrade your device in future or buy a new one.
Therefore, your preferred ELD solution should also be upgradable. In a bid to give their clients unfiltered access to truck data, many of the leading ELD providers today are giving out open APIs and free Software Development Kits (SDK) with every purchase of their ELD.
Still on configuration, you need to get a device that allows for integration with several third party solutions, such as cameras, fuel cards, TMS applications and temperature sensors.
Such ELD solutions have been proven to offer truck owners the best value for money and access to comprehensive truck data.
3. Cloud-Based, Robust ELD Models
Whichever way you look at it, cloud-based ELD solutions are superior to conventional electronic logging device solutions. Hours of service are integral to the success of your business.
As such, you must emphasize on the reliability of the solution you are buying. In this regard, an ELD solution that leverages on cloud computing will prove to be more reliable as well as robust.
As you may have learnt already, the incorporation of cloud computing into these devices has proven to be beneficial in a number of ways.
Some of the key benefits associated with cloud-based ELD solutions include:
Does not require wireless pairing with other devices to transfer and store data securely
More reliable – a simple malfunction of the paired phone will not affect data collection and storage or retrieval by the ELD.
Easier for drivers to maintain accurate logs, even when operating different trucks
Compatible with several platforms, including iOS and Android
Enhanced battery life – cloud technology only triggers the ELD to wake up when a notification needs to be delivered to the driver. As such, cloud-based ELD units have been proven to have relatively lower power consumption.
Consistency in coverage – the functioning of such products does not rely on cellular coverage. As such, the functioning of the device will not be affected by cellular coverage. You will find such a system more reliable when the truck is driving into and out of cellular coverage.
4. Event Based ELD Solution
Most of the ELD solutions available today operate on a time-based manner. In this regard, the solution will periodically seek to find out where the device is and how fast it is moving and then store such data.
Depending on the ELD service you are using, this time ping can occur in intervals of 1 to 15 minutes. Such data will help ascertain what might have happened to the vehicle for the period the ELD was not communicating.
However, there are many things that can happen to a vehicle within such a time frame. For more accurate data, you should get a solution that is event based.
This is to say that the device will only record and transmit data when there is an event change, such as speed, location, harsh acceleration or braking and engine diagnostics. Such a system will help you manage your trucks more effectively, don't you think?
5. Continuous Off-grid Logging
Some of the best ELD devices in the market rely on the availability of cellular network to record and transmit data. Such a product will not work when the truck is out of the coverage area.
In some cases, limited coverage of cellular network has also been said to affect the functioning of such ELDs. When shopping for the bets ELD for your truck, you should get one that is not affected by cellular coverage.
You need to ensure that the device will continue logging, even when the signal is limited or unavailable. During the period of outage, some of the units are designed to collect and store data in the connected tablet or Smartphone. The cloud-based models will store the data in the cloud, safe for retrieval anytime you need it.
6. Enhanced Safety Features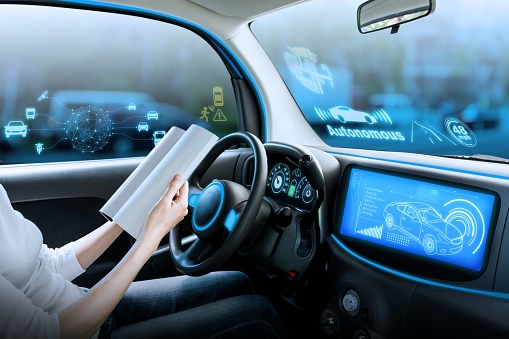 If you are an owner-operator, you probably know how important it is for you to maintain a good safety score.
Costly violations on the road will not only be eating into the profits of your business; they will also make you less attractive to insurers and brokers. You do not want this to happen, right?
Therefore, you need to invest in an ELD solution that allows you to proactively manage violations prior to inspections.
In this regard, a considerable number of ELD providers are offering an array of in-app notifications to help you steer clear of certain violations. With such a feature in your ELD solution, you will avoid several violations during inspections; hence maintain a great CSA score.
7. Is the ELD Registered with FMCSA?
Before making the final decision, you should take time to check the ELD list registered with FMCSA. Basically, it is not advisable to buy your ELD solution from vendors who are not in this list.  With a vendor on this list, you can rest assured that you are buying a product that meets the required ELD technical specifications.
The devices being sold by the registered vendors have also been self-certified. Additionally, the products by the registered vendors have been proven to meet FMCSA requirement. The reason you are buying the product is to be on the safe side of the law, right? As such, it will not be wise for you to invest in a product that does not meet FMCSA requirements.
8. ELD Provider Reputation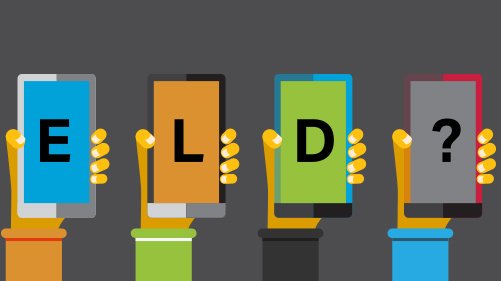 The increasing demand for ELD products has seen more providers establishing themselves in different parts of the country. Unfortunately, not all the providers available today are as good as they seem to be.
No hidden fee applied.  Be sure there are no additional/hidden fees. Ask ELD providers for all costs up front, and look for the ones that offer reports and forms free of charge.
In addition to selling you the ELD unit, the provider will also be providing support and several other ongoing services. For this, you are required to pay a monthly fee. To ensure that you are investing in a good product, it is advisable to carry out a background check on your preferred ELD provider.
To begin with, companies that have been offering this service for a considerable period are more experienced in the field. You may need to take a look at the reviews left behind by the clients the provider has served in the past.
This will give you a better idea of what to expect.  You should also buy from the trustworthy providers. Some providers are known to charge hidden charges on your monthly fees. Try to avoid this while shopping for the best electronic logging device for your truck(s).
Our Final Review
The deadline for installing electronic logging devices in commercial vehicles was December 18th, 2017.
This move has seen many fleet managers, owner-operators and fleet managers rushing to equip their vehicles with ELD devices. Before you do this, you need to stop and consider whether you are investing in the right product.
As you have learnt in this guide, there are several aspects that you need to consider while shopping for the best ELD devices.
Whether you are looking for an affordable solution or simply want the best back-office tools and services, this guide will help you buy the best electronic logging device in the market.
Summary
Reviewer
Review Date
Reviewed Item
Author Rating